This post may contain affiliate links - I may make commission from any purchases
Salami is one of those food items that you see in the supermarket and probably don't think about much.  It is a mainstay of dishes such as meat feast pizzas and maybe some pasta dishes.  But did you know there are lots of things to do with salami and in fact, there are a lot of different types of salami?  Here's some inspiration to get you started.
What is salami?
Salami is the name given to a whole family of seasoned, dried sausages that gain their distinctive flavour from the curing process that is used.  It also means that salami is safe to eat even if it isn't cooked, unlike most sausages.
Salami is an Italian term that has travelled around the world.  It started out as a mix of minced beef and pork with wine, salt and herbs and spices added.  Now different salamis are often given a name by the region in which they are made.  Some of the most well-known include:
Chorizo – Spain
Felino – Parma, Italy
Finocchiona – Tuscany, Italy
Genovese
German salami
Napoli salami – Naples, Italy
Milano salami – Milan, Italy
Pepperoni
Saucisson – France
Is salami good or bad?
Salami, like many pizza ingredients, is often seen as a bad thing to eat.  And eating too much of it will certainly do you no good – it often contains saturated fat and cholesterol, depending on the type of meat used.
However, many producers now aim to create better quality salami that uses things such as olive oil in place of fat and ensuring that all the ingredients used in the curing process are natural, without any artificial additives.  So enjoying a little salami now and again is a nice way to go for something different and full of taste.
Things to do with salami
So aside from enjoying salami with other styles of spicy sausage on a meat feast pizza, what other things do with salami can you enjoy at home?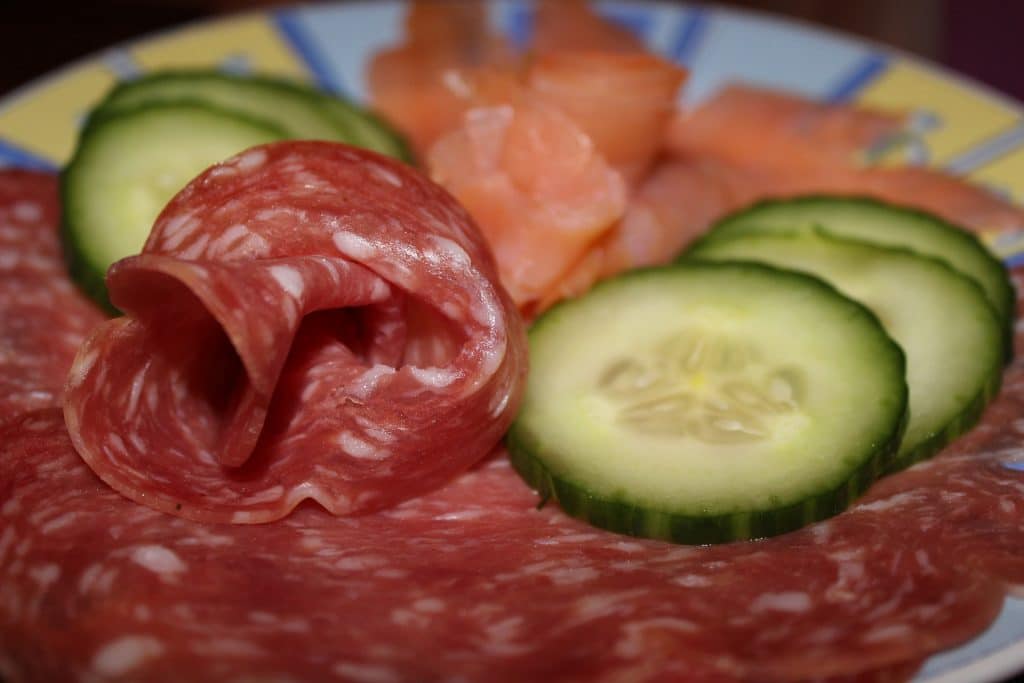 Pasta with Salami and Peas
Ingredients
1 16-ounce pack of pasta (recipe used mostaccioli but you can use your favourite)
2 cups frozen peas
½ cup olive oi
¼ cup butter
Bunch spring onions, chopped
Salt
½ tsp black pepper
¾ tsp ground cayenne pepper
8 ounces sliced salami
1 cup grated Parmesan
Boil up water and cook the pasta until you are happy with it.  Mix in the peas and cook for another few minutes.  Drain and leave in the pan.  Heat the oil and butter in a frying pan and stir in the spring onions and garlic.  Season with salt, pepper and cayenne pepper then cook until onions are tender.  Mix in the salami and cook until heated.  Add to the pasta, toss and sprinkle with Parmesan.
Slow Cooker Sausage, Salami and Pepper Stew
Ingredients
2 tsp olive oil
8 pork sausages
50g salami
1 red pepper
1 yellow pepper
1 large onion
½ tsp chili flakes
50ml red wine (if required)
400 g chopped tomatoes
Handful green olives
1 tbsp. tomato puree
1 tsp sugar
400g cannellini beans
Brown the sausages, peppers and salami in a pan with the olive oi.  Fry the onions with the chili and then add them to the slow cooker, adding the wine if required.  Lastly, add the cannellini beans, sausages, salami and peppers then cook on low for seven hours.
Light meals
Salami is a great ingredient for those light meals and snacks, adding a little extra flavour and working well with a number of other ingredients.
Spicy baked wraps
Ingredients
3 tbsp. broad beans, cooked
1 spring onion
1 small pack of salami (around 25 grams)
Pinch of paprika
1 tortilla
50g chopped tomatoes
25g grated cheddar
Line a baking tray with aluminium foil and preheat the oven to 180C.  Mash up the cooked broad beans and stir in the salami and spring onion with the paprika and a touch of black pepper.  Lay out the tortilla on the baking tray and spread out the tomatoes.  Add half the bean mixture and sprinkle some cheese.  Fold the wrap and cover with foil, wrapping the ends to stop escaping food.  Cook in the oven for around 15-20 minutes.
Salami and Provolone Panini
Ingredients
¼ cup mayonnaise dressing with olive oil
8 slices Italian or white bread
12 slices salami
8 slices provolone cheese
1 cup spinach leaves
Top each slice of bread with the spinach, cheese and salami before topping with another slice.  Brush both sizes with mayonnaise and cook in a skillet or grill pan, turning once until browned and the cheese is melted.
Party pieces
Salami makes for perfect party pieces, small and filled with taste.  These can be easy to make, open to lots of interpretation and always enjoyed by guests.
Salami and Tomato Folds
Ingredients – serves 22
22 slices salami
½ cup cream cheese, garlic and herb flavour
22 cherry tomatoes
22 toothpicks
Spread out the salami and coat one side with a thin layer of cream cheese.  Fold each in half over the cheese and place a tomato in the centre.  Roll the salami around the tomato and secure with a toothpick.
Sources:
http://www.bbc.co.uk/food/recipes