This post may contain affiliate links - I may make commission from any purchases
There are many notable sights at this time of year and one of them is a blackberry bush laden with fruit. From those greenish ones through the red shades to the shining black ripe fruit, blackberries are a common sight around the country. They are often easily purchased in neat little packets in supermarkets as well. But what can you do it if you pick or purchase some of those attractive little berries?
Blackberry vs raspberry
Blackberries are part of the genus Rubus that also contains familiar fruits such as the raspberry. In fact, there's not a massive amount of difference between the two – the definition is to do with something called the 'torus' or stem. If the torus stays with the fruit, it is a blackberry whereas if it stays with the bush, it is a raspberry. Of course, there's generally a colour difference too.
Blackberry plants are perennial (return every year) with biennial (two year) stems so if you grow your own, you might notice the plant dies off but isn't dead – the root system is still there, waiting for the next year. Blackberries are often referred to as brambles because they can grow into large, tangled arches of branches and can also grow in lots of different locations including vacant lots, ditches and wasteland.
Health benefits of blackberries
Blackberries have been a favourite fruit of people as far back in history as we can go and in many parts of the world. They also come with a number of health benefits while a cup only contains 62 calories and less than a gram of fat.
For starters, each cup of berries has around 8 grams of fibre in them which accounts for 21-32% of the recommended daily amount. This helps digestion and also cholesterol levels. It also contains Vitamin A, known for its ability to help maintain a healthy mucous membrane – that cup of berries contains 13% of the recommended daily amount of this vitamin.
Vitamins C, K and manganese are also present in the berries and these are great for the bones. Vitamin K provides minerals for new bones to be made and a cup contain 24-32% of the daily amount of it. Vitamin C helps with collagen, present in bones and also in skin while manganese also helps with collagen production and enzymes needed for bone development.
Lastly, blackberries have anthocyanins in them and these are antioxidants – those key chemicals that fight anything from the sights of aging to cancer. They also help with natural sun protection and battling the effects of UV rays.
Things to do with blackberries
Blackberries are most often features in pies and desserts of different forms as they are naturally high in fructose, a type of natural sugar, that makes them sweet to eat. The same benefit also makes them a popular ingredient in smoothies.
Blackberry sauce
A great way to jazz up a simple dessert such as a plain cheesecake or even some vanilla ice cream is to add a fruit sauce to it. This blackberry sauce uses 3.5 cups of fresh or frozen berries with ¼ cup sugar, ¼ cup water and a tablespoon of lemon juice. Bring the berries, sugar and water to simmer in a saucepan then simmer for around 5 minutes. Strain through a fine sieve and stir in the lemon juice then keep in the fridge until serving.
Blackberry jam
One of the simplest things to do with blackberries is to make them into jam. You can get lots of jam making kits now that mean this isn't as arduous a process as it once was and the jam itself needs only a few ingredients – blackberries, white sugar and lemon juice according to this simple recipe.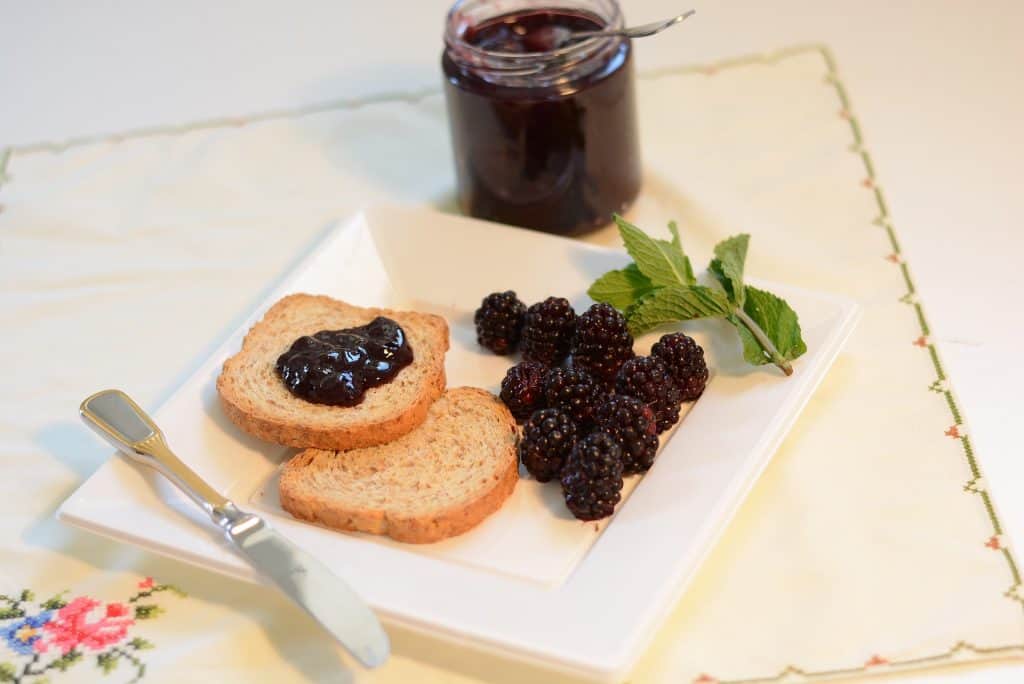 Blackberry sorbet
If you have an ice cream maker of any kind, then a classy sorbet to make includes blackberry and lavender. Add 185ml water to 130g sugar and heat until dissolved. Take off the heat and add 2g lavender to infuse the water for 10 minutes. Next add 250 grams of pureed blackberries and stir then sieve to remove the seeds. Pass through an ice cream maker and then freeze.
Classic fruit salad
Fruit salad can be a mixture of any fruits that you enjoy. This recipe uses strawberries and blackberries along with two tablespoons of honey and the same of lemon as well as a quarter cup of fresh mint, chopped up and mixed in.
Sweet treats
Blackberry frosting cupcakes
Not only do blackberries taste great but they also give everything a brilliant purple colour. This recipe for Purple Velvet Cupcakes uses a blackberry frosting and a berry on the top for a tasty treat. It also uses chocolate and a little food colouring to get the perfect complementing cake.
See the recipe – https://www.bbcgoodfood.com/recipes/purple-velvet-cupcakes-blackberry-frosting
Frozen Blackberry Fool
If you like a simple dessert, then this is easy to make and very tasty. You need 300g blackberries, the juice of one lemon, 85g caster sugar, 300ml double cream and some shortbread biscuits to serve.
Mash the berries with the lemon and half the sugar then whip the cream with the rest of the sugar. Mix the two together to make a light purple coloured mix then put into a freezer contain and freeze until it sets. Scoop out and serve in glasses with the biscuits.
See the recipe – https://www.bbcgoodfood.com/recipes/2415646/frozen-blackberry-fool
Smoothies
Smoothies are the perfect way to get the best of blackberries if you are a little unsure about the flavour of them or all of those seeds – you can easily sieve your smoothie mixture once made.
Raspberry Blackberry Smoothie
To make two servings, take 1 small banana, 70g blackberries, 125g raspberries and 170g vanilla yoghurt as well as a tablespoon of honey and four ice cubes. Mix everything together in a blender and serve or if you prefer, leave out the ice cubes, strain the berries and blend again with the ice in.
Blackberry Banana Smoothie
If you are a Greek yoghurt fan, then this recipe uses a cup of blackberries, one banana, half a cup of Greek yoghurt and two teaspoons of honey. Blend is all together and serve for a very creamy smoothie.
Blackberry cocktails
Not only do blackberries make great decoration in cocktails and can be used in some as they are, the fruit is also behind a few liqueurs such as crème de mure that are often used in cocktails.
Vodka Bramble
This cocktail uses one part (usually 25ml) vodka with 2/3 part lemon juice, 1/3 part simple syrup and 1.3 part crème de mure. Fill a rocks glass with ice, add the ingredients and top with a whole blackberry.
Black Bison Martini
This one is a very berry Martini recipe that uses 1.5 parts vodka, 1/3 part black raspberry liqueur such as Chambord, 1/3 part blackcurrant liqueur such as crème de cassis and 2/3 part lemon juice with the same amount of simple sugar syrup. Mix together in a shaker with ice then strain into a cocktail glass and decorate with whole blackberries.
Polonaise
This one will have a bit of a kick – it uses 1/3 part blackberry liqueur with one part cognac then 1/3 part lemon juice, 1/3 part orange bitters and 1/3 part sherry. Add everything into a shaker with ice then strain into a rocks glass and finish with whole blackberries.
The Wibble
This is one for gin fans as it uses two parts gin, two parts grapefruit juice with ¼ part crème de mure, ½ part lemon juice and the same of sugar syrup. Mix together in a shaker with ice and add to a cocktail glass then decorate with a twist of lemon.
Blackberry Gin Fizz
For this one you need five blackberries, three sugar cubes, ½ ounce lemon juice, 2 ounces gin and 2 ounces of club soda for the fizz. Muddle the berries and sugar in a glass until the sugar has dissolved then add the lemon juice and stir. Pop in a large ice cube and the gin then top with the soda. Finish with a couple of berries on a stick and give a little stir before drinking.
Enjoy those berries
There's nothing to stop you just enjoy blackberries as they are although if you are picking them yourself, always soak them in water for a little while – they have a justified reputation for coming with unpleasant extras such as bugs of various kinds!
What's your favourite way to eat blackberries? Pop a comment below!